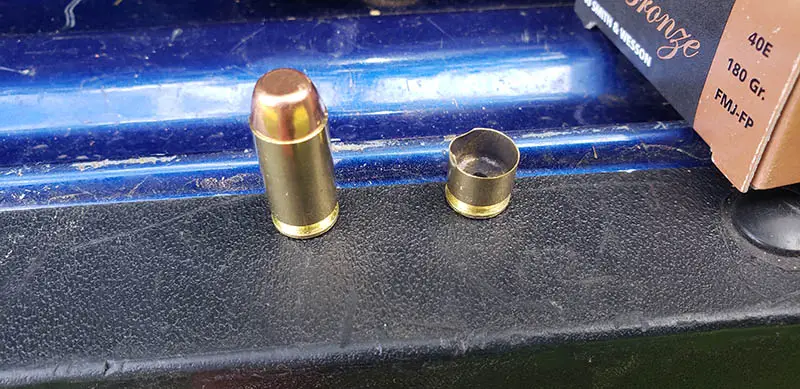 More often than not, whenever your gun malfunctions it's not your gun or your ammo at fault. Instead, it's usually an operator induced error such as limp wristing. There are a few different malfunctions that are caused by a factor other than you, and that's what we're going to tackle here in this post.
Malfunctions caused by ammunition can be some of the most dangerous to have, so these are ones you need to be aware of, as well as the symptoms of them so you don't get hurt.
We'll start with what I consider to be the most dangerous malfunction you can have, followed by the close second.
Squib / Undercharge
A squib is an ammunition malfunction that occurs when the manufacturer doesn't load the proper amount of powder into the case, causing the bullet to fire, but not leave the barrel. The bullet will actually get stuck inside the barrel, causing the potential for an explosion if the next round is a fully charged or loaded round.
If the next round is a true to spec, fast moving bullet, it won't stop when it hits the round stuck in the barrel. The issue lies when it doesn't have the ability to just push the round in front of it out of the barrel. When the second bullet hits the first one, they can both shatter, and cause your gun to blow up.
Thus, there is the chance for damage to your gun or, worse, injury to the operator.
How do you know if you have a squib?
There are a couple of different ways to know if you have a squib on your hands. First up, is the sound that the gun makes when firing. You should know what your gun usually sounds like. It should be a loud (unless suppressed) BANG. BANG. BANG.
A squib will sound more like a pop, or at the very least it will NOT sound like your usual shots being fired. It will be significantly quieter.
There might also be a reduction in felt recoil. If you have noticeable recoil for the rest of your shots, and then you have a shot without any or only a little, you may have a squib.
Another way you can know that you've got a squib on your hands is that there was no impact on target. I mean, hopefully you're on target and if you're not, that makes it a bit more difficult.
The best way to tell is to take apart your gun and look through the barrel, or at the very least, run a brass cleaning rod through the barrel to make sure it's clear. If you don't see daylight, or if the rod doesn't pass through, you've got a squib on your hands.
How to fix a squib
Fixing a squib may require the use of a gunsmith. If the bullet is lodged in such a way that minor pushing with your brass cleaning rod won't knock it loose, I wouldn't attempt to remove it on my own. Doing so may damage the rifling in your bore, and it's best to have someone who knows what he's doing fix it.
Overcharge
An overcharge is another one of those dangerous, ammunition-specific malfunctions that happens at the manufacturing facility. This time, instead of not putting enough accelerant into the casing, they put too much powder into it. This can cause the pressures inside the chamber to be too high for the gun, causing it to break or worse, blow up.
The most famous recent example of this happened on camera to the guy who owns the Kentucky Ballistics YouTube channel. He had an overcharged 50 caliber that blew his rifle up and nearly died. Of course, that ammo was NOT loaded by a manufacturer, at least not that we're aware of. Instead, it was likely hand loaded by someone who had no clue what they were doing.
It is incredibly rare to have an overcharge from the factory with name brand ammo. There are measures put into place to restrict it, which is why squibs are more popular between these two dangerous malfunctions.
It's dangerous to overcharge a round of ammo, because each chamber can only withstand so much pressure, which is why SAAMI puts forth guidelines for ammo pressures and the amount of powder that goes into them.
That's also why some guns can handle +P or +P+ ammo, and others cannot. That link, by the way, explains what some of the letters and numbers on ammo boxes mean.
How do you know if you have an overcharge
It's not always easy to tell if you've got ammo that has too much of a charge in it. One way is that the gun blows up. Obviously, you'd want to know before it ever gets to that point.
If the gun is louder than normal, produces bigger muzzle flashes than normal, or recoils harder than usual, there is a slight chance that you've got some ammunition that is over charged. Then again, it may just be hotter ammo, but still loaded within specs.
This one is tricky.
How to fix an overcharged round
Depending on if your gun blew up or not, first seek immediate medical attention. Make sure you're not bleeding out and if you are, try to stop it. Go get medical help. The Kentucky Ballistic guy stuck his thumb inside his neck to plug up the hole he had, which likely saved his life.
Next, buy a new gun.
If your gun didn't blow up but you suspect that you're shooting overcharged rounds, put them off to the side and don't shoot them anymore.
Stuck Casing
Less dangerous, overall, is the stuck casing. Of course, I say less dangerous in the context of target shooting but this one can be absolutely detrimental if it happens on the battlefield or during a defensive gun use scenario.
This can be caused by a few different issues, sometimes by the gun in the case of a worn out extractor. Other times it is caused by damaged brass because the brass swelled up or broke inside the chamber. This isn't supposed to happen because of the tight tolerances, and the fact that the case should only get so big, but it does happen.
Then again, sometimes it is a combination of things to include the case and the extractor. Maybe the extractor works properly most of the time, but with just a right amount of swelling, the extractor won't do its job.
Even stranger is an issue I had over the last year with a gun malfunctioning only with PMC Bronze ammunition. The brass cases were getting cut in half. The back side of the case with the primer was extracted, but the front half where the bullet sits remained in the chamber.
Another iteration of this altogether is when the gun completely locks up. This happened to me once with an AR-10 that was under gassed. So, it was the gun's fault not the ammo, but it required a method of fixing that I'd rather not discuss here called pogo-sticking.
I'm sure you can use your imagination.
How to know if you have a stuck casing
The first clue that you have a stuck casing is that the new round doesn't feed properly if at all. Your gun will not go into battery, and you obviously won't be able to fire it again.
Another indicator is that the action will not open. Of course, this depends on the type of gun you're shooting, as well as the way the casing is stuck.
How to fix a stuck casing
A stuck casing is usually an easy fix, depending on your gun. Sometimes just closing the action again and opening it will work. It could be that just the few moments of you letting the heat to dissipate was enough to get the extractor to do its job.
Then again, I've also had some so stuck that it required the use of tools. This usually happens in AR pattern guns while utilizing reloaded brass because it is just a tad weaker and tends to swell up easier.
Hard Primer
A primer that seems like it's a harder material and doesn't detonate is another issue that many smaller or newer ammo manufacturers face. This will usually result in what is known as a light primer strike and is the most common of the ammunition malfunctions listed here.
A light primer strike is a malfunction that occurs when the firing pin or striker hits the back of the primer just enough that it makes a small dent in the primer, but does not fire the shot.
This is another one that can be either the gun or the ammo, or a combination of both just not jiving correctly. I've had pistols that would shoot one brand of ammo just fine, and another brand that would show little dents on the primer without detonation. That same ammo worked fine in a different pistol, just as it was supposed to.
Often, the issue is the primer itself. This is a common issue for remanufactured ammunition when companies use primers that, for one reason or another, are harder than they should be in an attempt to pass savings on to the customer.
How to know if you have a light primer strike
You might have a light primer strike if the gun doesn't fire. The best thing to do if you pull the trigger and nothing happens is to wait a little bit to make sure you don't have a hang fire. If some time passes and nothing happens then you might have a light strike.
Pull the round out of the chamber and check it out. Is there any type of mark on the primer? There usually will be if this is the cause.
Usually, the primer will have some sort of mark in the back, like a small dent. This small dent is an indicator that the gun has done its job and that the ammo is a problem. This is even truer if the gun shoots other brands of ammunition just fine.
Again, though, there could be an issue with both.
How to fix a light primer strike
The way you fix this will be primarily dependent on the type of gun you're using. Some just need to have the trigger pulled again.
If the problem persists among several rounds, it may be a good idea to try another brand of ammunition. If that ammo works fine, then you might want to reach out to the manufacturer and let them know that you're experiencing issues.
They may not do anything for you, but the more reputable companies don't want their ammunition floating around if its faulty.
Conclusion:
It pays to know the different types of ammunition specific malfunctions that you may experience, so you know how to fix them, or avoid injury or damage to your firearm. It's my hope that this guide got you on the right road to understanding what could happen, as well as what to do if you experience any.