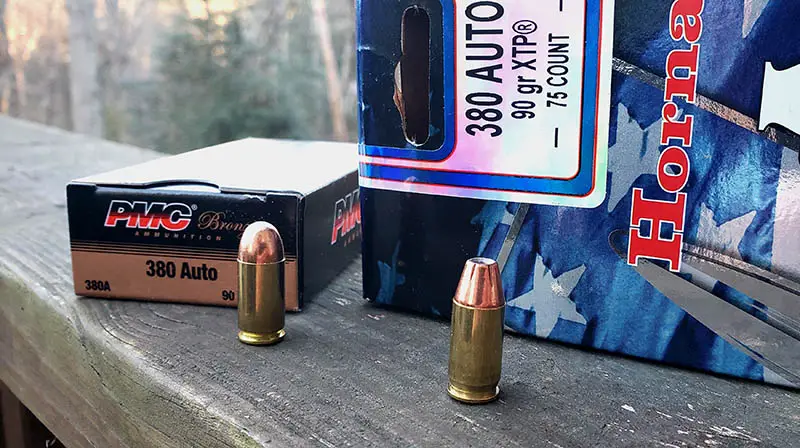 There is a lot of information out there highlighting the capabilities of any given caliber of ammunition. Some of these are for hunting cartridges, others are for concealed carry and self-defense. Most of this information is nothing more than a regurgitation of other content, which is evident by the fact that they all have the same false opinions on the cartridges they speak about.
One of my goals with this blog is to outrank these false claims with truth to help people make the right decisions about their self-defense or hunting purposes.
One of the most falsely characterized self-defense cartridges is the 380 Auto, as I constantly see falsehoods spoken about it. So, it should make sense that we're here to talk about the 380 Auto cartridge this time.
More specifically,
Is 380 good for concealed carry?
The 380 can be sufficient for concealed carry, but only when its limitations are understood, and only for certain people. For those people who are sensitive to recoil, have arthritis, or some other disability, some guns in 380 Auto will be good. This is following the thought that something is better than nothing.
Where things start to go awry is when publications talk about the 380 in absolute terms, not taking into account why the person chose to carry a 380 ACP to begin with — which is because the person wanted a small, easily concealable gun, or one that has a low recoil impulse.
For the vast majority of people who are looking for a good concealed carry gun, the 380 Auto is not going to be a good option. The main reason is because in the above stated combination, the 380 Auto recoils hard and is less impressive as an attack stopper than the other mainline self-defense cartridges.
Minimum viable cartridge for self-defense
There is such a thing as a minimum viable cartridge for self-defense. Most people consider the 380 ACP to be just that. I think I would agree for the most part. The 380 Auto is the smallest cartridge you should likely consider carrying, but you should only do so if you can't carry something else.
In terms of effectively stopping a man, the 380 Auto can work. But there are important limitations that it has over some of the other, better, options.
For example, it has a slow moving bullet that produces a lackluster amount of energy. Furthermore, many of the available hollow points do not expand as a hollow point should, and when it does expand, it doesn't go far enough into the target to do any amount of real damage. This leads us directly into our next point.
Most important is shot placement
The most important thing with any kind of self-defense shooting is shot placement. You'll never be able to save your life or that of a loved one if you can't hit your intended target. It won't matter what caliber you carry, and even the most effective self-defense calibers will suck if you can't hit your target.
To figure out how effective you are at hitting your target under stress, add a shot timer ( That's the one I use that connects to my phone) to your next range session and see how you do. Can you draw your gun and place a shot in a vital spot of your target in about a second? A second and a half? Two?
No? Then your shot placement is not a good argument and you need to train more.
That's not what this article is about, though, so let me get back on target.
We all understand that shot placement is key. What we're determining here is if your shot placement is sufficient, is 380 Auto good for self-defense?
Maybe, at best. But first —
Not all 380 ammo is equal
A while back there was a movement in the industry where a lot of folks began to say that the available 380 hollow points weren't sufficient. They either expanded or they penetrated.
They never did both.
I fell prey to this, and for a short while I suggested that people who insisted on carrying 380 ACP pistols for self-defense did so with FMJ ammunition.
I was wrong, and that is an incredibly stupid thing to do. This was several years ago in my journey, and I've since learned a lot after having studied ballistics over on the other blog I own, as well as working for the industry for over a decade now.
There are 380 cartridges that do expand and penetrate, and to carry anything else is irresponsible. Let me reword that, if you plan to carry a gun chambered in 380 Auto, it has to be with one of the available good cartridges.
90 Grain Hornady FTX Critical Defense
90 Grain Sig Sauer V-Crown
90 Grain Speer Gold Dot
In that order listed from best to least. But those are the only three that should be considered, as of right now, for carrying a 380 Auto. They're the only ones that expand and penetrate consistently.
I'll say it again: You must carry one of the above-listed 380 ACP rounds in your gun if you need to carry a pistol chambered in that lackluster caliber. I'm not paid to say that.
After all, not all ammo is equal, especially when you're dealing with such a slow bullet like the 380. Let's take a look at why.
Expansion, penetration, energy, and velocity
In order to make a good hollow point bullet, there needs to be a marriage of sorts between a few different characteristics.
All of these characteristics need to take place at the right time in order for the bullet to do its thing. If these don't happen, the bullet (or projectile as I sometimes call them) won't have the desired result. If that happens when someone is trying to hurt you, your chances of being successful go down.
For the purposes of this blog, I'll break it down as easily as I can.
Most of the standards we use come from the FBI. The rest is just speculation. For our purposes here as we look at the effectiveness of the 380 ACP self-defense round, we combine speculation (based on testing), some science, and the FBI standards.
Penetration
The clearest standard put forth by the Feds is penetration. They state that the most effective range for a self-defense handgun caliber is for the projectile to penetrate into ballistics gelatin 12-18 inches. No less, no more.
The theory behind this is that if it falls short of the 12 inches required, then it may not have the chance to do any of the necessary damage. If they go past the 18 inch point, it runs the risk of coming out the other side. Obviously this is bad because the bullet could keep traveling and hit an unintended target. However, I'm here to tell you that there is more to it than that.
Something that most folks rarely ever think about is that if the bullet comes out the other side, it's because there was still power left in the bullet. If there is still power, meaning velocity and energy through moving mass, then it didn't do its full job to the target.
This is one of the reasons why bullets are supposed to expand, which we'll get to momentarily. But first, let's discuss why the 380 is lackluster in the penetration department.
Penetration VS Expansion:
One of the main issues with the 380 is that most of the cartridges you'd buy for self-defense either penetrate far enough OR they expand enough. They don't consistently do both, and when you do find one that does both, they don't really do them well.
The issue is that the 380 Auto lacks a sufficient amount of power to propel the bullet to the speed needed to force a hollow point to expand. And while it may seem counterintuitive, if they don't expand they don't slow down enough to stop in the body.
Worded differently, they're moving fast enough to leave the body, but not fast enough to expand and slow down. Again, counterintuitive.
The above-listed cartridges do it better than most of the others, but not by much.
Therefore, you either get penetration or you get expansion. I'll be honest here, there are a couple that I use for my wife's 380 gun because they're the best option, and she cannot shoot a 9mm well.
Our first choice is the Hornady Critical Defense which consistently travels to 12 inches and expands to a half inch in diameter, or the SIG V-Crown with the same expansion and consistently penetrates between 11 and 15 inches, which is less than what is recommended, but at least it does it consistently.
Those are the best two, and the only ones I'd let my wife defend herself and our children with. Take that to the bank.
The next issue, which can be discussed on another day, is that many 380 Auto pistols are very picky on the ammunition they cycle. Always test your chosen defense ammo in your chosen self-defense gun.
Expansion:
Any good self-defense round is going to expand. Rarely ever, and only as a last resort, should you carry a target, ball, round nose, FMJ, or whatever else you want to call it, round. The hollow point is really the only way to go.
What is the purpose of a hollow point? To expand. Why do we want the bullet to expand? Because when it does it creates more surface area on the projectile itself. This does a couple of things.
First, it helps the bullet slow down so that it stops inside the bad guy. When it stops inside the bad guy, it helps to transfer all of the energy to the inside of the bad guy (see below). If it doesn't stop, it's because there was leftover energy.
If the bullet leaves, the bullet could then travel to and hit someone or something else. That is bad for hopefully obvious reasons.
The second thing a bullet that has expanded does, is more damage to the inside of the bad guy. Because its surface area is bigger, it has a better chance of hitting more vital organs.
That is key, and something that folks who tell you to just carry ball ammo don't get. If a vital organ is hit your attacker will slow down his attack that much faster.
Poking 35 caliber holes in your target is great, but wouldn't it be better if it could expand to nearly twice its original diameter? (The answer is yes.)
Energy
If there is one thing that gets a lot of back and forth debate, it is energy. I would posit that many folks don't understand what they mean when they say "bullet energy." I know I struggle to wrap my head around it and I've been doing this for a long time. There is some math to calculate energy, and it isn't an arbitrary number. I won't bother you with the math because then my brain would hurt and we can't have that.
Suffice it to say you need things to calculate energy: Velocity and mass. In other words, you need something that can be weighed that is also moving to have this energy.
Different projectiles of differing speeds and weights can have different amounts of energy.
For example, you can have a really fast moving, but lightweight projectile that creates a good amount of energy.
Or, you can have a really heavy, but slower moving projectile that still creates a good amount of energy.
Then again, and perhaps best for those of us looking for bear defense or something similar, is to have a big, heavy projectile that is also moving really fast that delivers the most amount of energy.
So, if you have a slow moving but heavy projectile that creates good energy, a fast moving but light projectile that creates good energy, and a fast moving but also heavy projectile creating good energy, what do you get when you have a slow moving but lightweight projectile?
You get the 380 ACP.
And no, it doesn't create good energy. The above mentioned Critical Defense rounds have 200 pounds of energy at the muzzle.
For the sake of comparison, the lightest 9mm projectile usually considered for self-defense is 115 grains which has upwards of 350 or so pounds of energy.
So yes, while there is some energy it is a lot less than the other popular self-defense cartridges. Is it enough? It depends on your needs, and it could be enough as long as you understand that it does have limitations, and if you have a small gun and cannot land follow up shots, the answer is a solid no.
In other words, it's not enough for me as someone who can shoot more powerful guns, but it is enough for someone who cannot (like my wife).
Velocity
One of the main problems for the 380, is lack of velocity. It is a slow moving round. Speed, or velocity, is one of the needed components to making a bullet expand. Of course, you need a good bullet design, too, but for our purposes here velocity is needed.
Some of the fastest moving 380 ACP rounds move at about 1,000 FPS at the muzzle when fired from a 4″ barrel. In fact, those are the numbers for the above-mentioned Critical Defense rounds from Hornady. Those are pretty impressive numbers for the 380, and the main reason why I chose it for my wife's little 380 gun. That 1000 FPS is sufficient for the consistent expansion of those bullets.
Another point of issue is that many of the available guns chambered in 380 don't have a 4 inch barrel. So, technically, they're moving slower than 1,000 feet per second, and still may not expand properly.
Many of the others do not even move that fast, though, and one of the factors proving that not all ammo is created equal and doing proper research matters. The above-mentioned V-Crowns, for example, come in at 861 FPS.
They still expand well, but don't always reach the minimum depth.
Mass
Most folks will talk about penetration, expansion, velocity, and energy with some sort of regularity and accuracy. The thing that many folks tend to forget about is mass. While it's true that you need mass to calculate energy, it's actually important outside of that calculation as well.
For example, a lot of folks will compare, wrongly I might add, the 9mm to the 380 Auto citing the fact that they're both "technically" 35 caliber projectiles.
That is entirely true. They both shoot bullets that are technically .35 caliber. While the diameter of the bullets themselves are the same, they don't carry the same amount of mass in terms of weight.
The defensive projectiles for most of the 380 Autos out there is 85 or 90 grains while they range from 115 to 147 grains for the 9mm Luger.
They're not the same.
Blanket statements are dangerous
If there is something that we need to get away from in the gun industry it is blanket statements. A blanket statement is one which covers a bunch of things, and is given a certain amount of authority giving it the false sense of fact.
Blanket statements are one of the reasons why I hate most of the other blogs that cover ballistics or talk about 380 being a good option for self-defense.
Part of the problem is that gun blogs saying that 380 Auto is a great cartridge for self-defense without taking the defender into question is just asking for problems. More info is always needed.
Can the 380 be sufficient for self-defense? Yes, it can. But certain requirements from the gun along with choosing the right ammunition need to be met. And, if the shooter can carry a better combination he or she should. Period. End of story.
If you can carry a more effective cartridge you should. Always.
I know I'm going to catch a lot of hate for that statement and I don't care. It needs to be said. Is there a time and place for this weaker cartridge? Yes, as long as you understand its limitations and use an appropriate gun.
Let's move on to the gun, next.
380 ACP recoil can be snappy
I'm going to level with you, the recoil produced by the 380 ACP can be snappy. Once again going after the gun blogs who are just dipping their toes into the ballistics water, they like to say things like "compared to a 9mm, the 380 Auto recoil is much easier to handle."
Well, maybe. But there is a lot more that goes into it than just the cartridge. There are a ton of other factors that people seem to forget about as they regurgitate other people's opinions without doing any real research of their own.
Things like —
Weight of the gun
Length of the grip
Bore axis
Reciprocating mass
Recoil spring weight
All directly affect how heavy the recoil on any said gun is.
Therefore, if you take a SIG Sauer P238 in 380 ACP and put it next to s SIG Sauer P320 in 9mm, the 238 will feel heavier (or at least the same), recoil wise, than the 320 will. The 320 is a heavier gun with a longer grip that you can get all of your fingers on to control the recoil.
The only time it makes a difference is if everything else is the same on the two guns, minus the caliber. If the guns are identical but one is 9mm and one is 380, the 380 will feel lighter. But most of the time, the 380 Auto guns were made because they were smaller and more easily concealed.
Because they tend to be so small, they recoil more.
A shift in thought
There has been a recent shift in thought with the advent of the high capacity micro compacts like the Sig P365, the Springfield Hellcat, and others. Now that the 9mm pistols have gotten a lot smaller and more easily concealed, the 380 guns have gotten bigger. This is an excellent development for those of you who are recoil sensitive, have arthritis, or some other problem shooting.
The 380 Auto is a light-recoiling cartridge under the right circumstances. And while it's still not the best for self-defense, understanding its limitations and the necessity for shot placement, along with increased capacity, and using the best 380 hollow points available to you — the bigger 380 pistols make a lot of sense for those people.
Bigger 380 Auto guns like the Shield EZ, Sig's 365-380, or SCCY's CPX3 are all very light recoiling pistols, and you can feel that they shoot lighter than their 9mm counterparts.
Those pistols are great for someone with arthritis or if you're otherwise very recoil sensitive.
Conclusion:
Is the 380 Auto good for self-defense? It can be, but only for the people who need what it offers. If you are one of those people, you must know how to shoot effectively, know its limitations, and have the proper ammunition that will expand and penetrate to the minimum requirements.
That said, there are better options for the vast majority of defenders and it's your duty to choose the best setup that you can shoot, and shoot well.