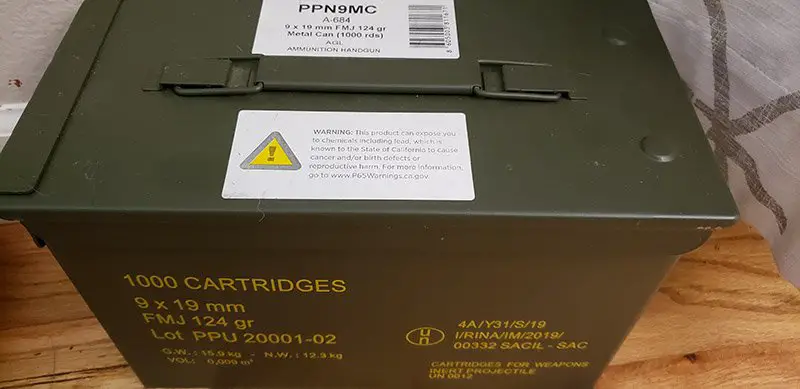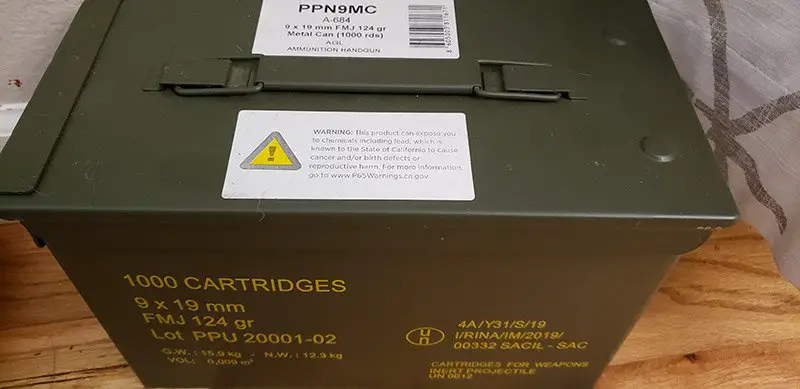 Prvi Partizan is an ammunition manufacturer located in Serbia. They have been manufacturing ammo since 1928 and make a wide array of different calibers of ammunition, shipped around the world.
According to their website they currently make over 400 different types of ammo, including the 9X19 I tested in this PPU review.
The company is the primary source of ammunition for the Serbian Army, and currently produces out of three production facilities.
PPU Ammo Review:
I recently had the chance to go to the range with about 1,000 rounds of 124 grain 9X19 FMJ that I picked up from Palmetto State Armory about six months ago.
I ended up shooting this ammo through several different guns to test function and to ensure that the ammunition fed as it was supposed to.
I tested the Prvi Partizan in the following guns:
Springfield Armory XD9
SCCY CPX-2
Springfield EMP 4 1911
FN 509
Sig Sauer P365XL
Does the PPU Ammo Cause Malfunctions?
I tested the PPU ammo in several different 9mm handguns to ensure a good test.
I wanted to use a good mixture of guns that are known to be lower end, mid tier, and higher end pistols to ensure I could produce any failures with the PPU ammo, if at all possible.
I fired a minimum of 50 rounds through each pistol, utilizing multiple magazines whenever possible. None of the guns produced any malfunctions of any kind. Each gun performed flawlessly with the PPU ammunition.
Is PPU Accurate?
The PPU ammunition is accurate out to defensive distances. I fired the test guns at 5, 7, 10, and 15 yards. At all distances the PPU ammunition hit the target where I aimed, unless I did something wrong.
I was shooting steel plates of various sizes and was able to hit the target at each distance. I did not measure groups or anything like that, but was able to ring the steel at each distance.
How dirty is Prvi Partizan ammunition?
It's not the cleanest ammo, by any stretch. It's also not the dirtiest. In some of the guns, especially those with shorter barrels, there was visible smoke. During rapid fire with certain guns, I'd have to let the smoke clear before I could keep firing.
My issue is that I could not see the target through the smoke. Again, that was with rapid fire, and this was with the above-pictured lot of 9X19 ammunition.
Is PPU Corrosive?
PPU ammo is a modern cartridge with modern components and is not a corrosive ammunition. It may be dirtier than some of the other ammo you're used to shooting, but it is not corrosive as military surplus ammunition is.
Conclusion:
The ammunition that PPU produces is good stuff. It's not the cleanest ammo out there, but it is a great option for those who want to do some shooting with reliable ammo, or to keep some bulk ammunition for when the SHTF for real.
If you've used this ammunition before let me know in the comments below how you liked it.