There are more and more folks taking their personal safety into their own hands, and as they do, they begin to see the importance of carrying a gun. Many of these folks realize that nobody is coming to save them from a crime, and that the true job of the police is to investigate said crimes, after they've already occurred.
This, ultimately, means that it's up to you to protect yourself if you're ever attacked.
I thought I'd put together a short guide on the most popular defensive calibers, discuss each one in more detail to talk about its strengths and weaknesses, and see if it should be so popular as a defensive round for concealed carry.
What are the most popular defensive rounds?
9mm Luger
45 ACP
380 ACP
38 Special and 357 Magnum
40 S&W
Let's take a more in depth look at each one.
9mm Luger:
The 9mm is the most popular handgun cartridge in the United States. Most handgun manufacturers, unless they only make big bore guns, offer up something in 9mm Luger. In addition to the 9mm being the most popular handgun chambering, the most popular handguns are also those chambered in 9mm.
Pistols like the Glock 19, Sig Sauer P365, S&W M&P, etc., are offered up in 9mm. Of course, some companies also offer up their most popular guns in other calibers, like the aforementioned M&P.
Why 9mm is popular:
There are several reasons why the 9mm Luger handgun cartridge is one of the most popular handgun chamberings around. First up, is the fact that since the mid 1980s, 9mm NATO had been the sidearm round of choice for the United States Military. When the military decides to use a cartridge, it helps to drive the price down in the civilian market.
And that is ultimately another one of the reasons. Of all the cartridges listed here on this list, 9mm Luger tends to be the cheapest one. It is the cheapest for numerous different reasons. As stated above, one of them is because it is the sidearm chambering of choice for the military.
Another one of the factors driving price down is that there is a lot of manufacturer support. What I mean, is that all of the major and minor ammo manufacturers produce 9mm ammo. They don't just produce it, but have multiple offerings in it.
This forces the price down. There is a large demand for it, but there is also a very large supply of it.
And of course, as discussed earlier, there are more guns chambered in 9mm than most other semi-auto rounds, with the exception of maybe 45 Auto, due to the popularity of the 1911.
This popularity has in turn forced the market to decide to make the 9mm cartridge better, more efficient, and better at stopping attackers. There is more cartridge development taking place on the 9mm than, as far as I know, any other cartridge. This means that 9mm is more effective now than it was just a couple decades ago, and it continues to get better.
Key benefits of carrying a 9mm:
The main benefits of carrying a 9mm handgun is its popularity, effectiveness in battle, and the ability to carry several rounds in a single magazine. When coupled with more mags, you get to carry more ammo.
As stated above, there has been a lot of advancements in ammo technology, much of it being targeted toward the 9mm Luger so in my opinion the power factor isn't really a problem at all. In fact, I would wager that it is a better performer than the 40 S&W is, though I may be slogged for that statement.
Negatives of carrying a 9mm:
It depends on who you talk to, but many folks cite a lack of power as being the main negative to carrying 9mm. I don't personally share this thought, but plenty of folks do, which is why I list it here.
45 ACP:
The 45 ACP is the second most popular semi-automatic handgun cartridge. First made all the way back in the early 1900s for the 1911 pistol designed by John Moses Browning, and primarily used in these guns since, it has a long, rich history.
While the 45 Auto was originally used primarily in the 1911, it has moved on to other platforms, as well. Glock, SIG, Springfield, S&W, FN Herstal, and the rest of the gun manufacturers all make striker or hammer fired handguns that people use for self-defense each day of the week.
There are even AR-15 platform guns chambered in this round, boosting its popularity even further.
Why 45 ACP is popular:
At least a part of the reason why the 45 ACP is so popular is because it has been around for a long time. Another reason why, is because the 1911 handgun is one of the longest running platforms in existence, and has a cult-like following. Many of those people who swear by the 1911 won't even consider it unless it it is chambered in 45 Auto.
Another reason why the 45 Auto is so popular is because it shoots a 45 caliber projectile. It makes a big hole and does a considerable amount of damage. And, while its deniers would have you believe that it's old, short, and slow, it's actually taller than the 9mm, 40, and 380 by quite a bit. To move a 230 grain projectile, you need a good amount of powder.
Generally speaking, a good 45 ACP defensive cartridge should be moving between 850 and 1,000 feet per second. With a good hollow point, that should equate to a good amount of penetration and expansion to the bullet.
Key benefits of 45 Auto:
The main benefit to carrying a 45 Auto, is that it's a big bore semi-auto that allows the operator to transfer a lot of damaging energy to the target. Another benefit is that if you live in an area where you cannot carry a hollow point for self-defense, a bigger projectile, like that found in the 45 Auto, is better than a smaller one.
There is less over penetration and more damage than you'd get with a regular FMJ round in a smaller caliber.
Finally, even though it uses nice, big projectiles, the felt recoil isn't as much as you'd think. Technically, it sits somewhere between the 9mm and 40 S&W in terms of recoil, and I've shot small 380 pistols that seemed snappier than a big 1911.
Negatives of 45 Auto:
The main negative to 45 ACP is also one of it's benefits, which is its sheer size. Because it is a bigger bore cartridge you can only fit so many of them in a magazine. For example, a standard 1911 magazine will only hold 7 or 8 rounds.
It also costs a bit more than the 9mm does, but is on par with the other cartridges on this list.
380 ACP
The 380 ACP is another one of those cartridges that has been around for a very long time, dating all the way back to the early 1900s. Early on, there wasn't a big following for it because people generally preferred the bigger bore cartridges than the smaller, less powerful ones.
The 380 Auto is the least powerful self-defense cartridge on this list, and was really made popular because for a long time, if you wanted a small gun it had to be chambered in a smaller caliber.
Now that the 9mm handguns have gotten smaller, there seems to be a push to make the 380 Auto guns even bigger. This is great for people who are sensitive to recoil or have arthritic hands, because these guns tend to use lighter recoil springs and are easier to rack.
Why 380 ACP is popular:
As mentioned above, for a long time if you wanted a small, highly concealable handgun that you could drop in a pocket holster, it almost had to be a pistol chambered in 380 Auto. There were other options like snub nosed revolvers, etc., but if you wanted a semi auto, it almost had to be a 380.
The 9mm handguns were small, but they weren't that small. Not like they are today with guns like the SIG Sauer P365.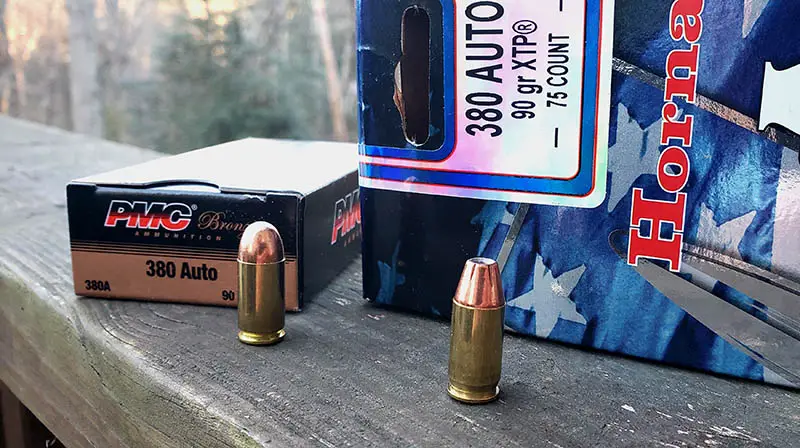 Key benefits to carrying a 380:
The benefits to carrying a 380 Auto will depend greatly on the gun you're going to pair it with. On one hand, the 380 ACP guns tend to be very small. And because they're small, they can all but disappear on your body when you conceal them.
On the other hand, as previously stated, the guns are actually getting bigger. And because they're getting bigger, and the 380 produces less felt recoil than any of the other cartridges on this list when all things else are the same between those guns, they are good for recoil sensitive shooters.
Negatives to carrying a 380 ACP:
The main negative associated with carrying a 380 Auto chambered gun is the lack of acceptable ballistics in terms of stopping a threat. There are just so many things going against the 380 Auto making it the worst option on this list for a majority of people that it's not even funny.
First up, the 380 case is short. This means that they can only fit so much magic fairy dust inside to make it go. Second, even though it's technically a 35 caliber, much like the 9mm, 38, and 357 magnum, it's very light in weight. In other words, it's a slow-moving, small projectile that may or may not expand when it hits its target.
Unless you need it for recoil purposes when, any gun is better than no gun when you need to defend yourself, leave the 380 at home and carry something else.
In my opinion, the 380 is popular without good reason.
38 Special / 357 Magnum:
It will likely drive some of you nuts for me to include both of these in one instead of picking just one, which would be the 38 Special. However, I pick both of them for a reason. Any revolver that is chambered in 357 Mag will also shoot 38 Special, even though the opposite is NOT true.
Just so we're perfectly clear, the 38 is the more popular of the two. But again, I include both here because it makes sense to me.
I almost always tell people that if you plan to buy a revolver, to just get one chambered in the magnum cartridge so you have the ability to shoot the gamut ranging from 38 Spl, 38 Special +P, and 357 Magnum. Yes it is slightly more expensive, but having the ability to shoot a few different cartridges comes in handy, especially when there are ammo shortages.
The 38 and 357 are both usually revolver cartridges. Though, there are some semi-autos that'll shoot them, like the Coonan Classic 1911, and a few Magnum Research pistols if my memory serves me right. There are also lever action rifles that shoot them, which isn't necessarily the point this time around.
Why 38 and 357 Mag and popular:
As stated earlier, these are revolver cartridges, primarily. In terms of folks who'd rather carry a revolver for self-defense because of their inherent reliability (not that they can't malfunction because they can and do), the 38 and 357 are the most affordable, available, and potent (except when compared to something like 44 magnum).
They're also popular because they're older cartridges, with a lot of guns chambered in them (not to mention their dual purpose with lever actions).
Key benefits to carrying a 38 / 357:
The main benefit to carrying a 38 special or 357 magnum is their inherent reliability to go bang. That being said, this is usually a trait of the guns that shoot them, not necessarily a trait of the ammo itself.
In terms of the magnum cartridge, it is a very effective attack stopper. And if you live in black bear country, utilizing a hard cast bullet as bear or human defense will work, if you can only afford one gun to do two purposes.
Then in terms of the 38 special cartridge, we have the lower recoiling of the two. So if you're recoil sensitive, but still need a cartridge to defend yourself with, the 38 special will work, even if its ballistics aren't as impressive.
And, once again, there is the dual purpose nature of these cartridges, in that you can have a revolver and a lever action rifle both shooting the same thing, which is nice from an affordability standpoint (even if the ammo is darn expensive right now).
Negatives to carrying a 38 or 357:
As with all things, there are some negatives. First up, is that most of the revolvers out there are only 5 or 6 shots. This means you're very limited to the number of shots you can take against any attacker.
There are also 7 and 8 shot revolvers, but they're harder to carry because they require a bigger frame. Holster support also goes down tremendously because they're nowhere near as popular. I have an 8-shot big frame 357 Magnum that I struggle finding gear for.
The recoil on the magnums can be a bit intimidating for some shooters, even if it isn't really that bad. Finally, you have the ballistics on the 38 special.
They're less impressive than most would want, and sit somewhere between the 380 Auto and the 9mm Luger, unless you're shooting +P rounds.
40 S&W
There is a massive departure from 40S&W as of late. At least part of the reason why is because many police are moving away from it and toward the lighter recoiling 9mm. The gap has closed quite significantly between 9mm and 40 in terms of terminal performance, and it's more pleasant to shoot than the 40 S&W is.
I've also been in gun stores who refuse to sell anything chambered in 40 S&W because it just sits forever without sale.
Why 40 S&W is popular:
Back in the 80s there was a push for police departments to stop using the 9mm and move to a more potent semi-auto round. They initially tried 10mm, but eventually settled on the 40 because 10mm was harder to shoot, recoil wise. Because of that big push, and the fact that many police departments actually switched, the civilian market also made a switch.
It surged in popularity for a long time, until the 9mm Luger closed the gap in terms of performance. The 9mm is still not quite as strong as the 40 is, but it's close enough to force police departments around the country to switch back citing cost as one of the factors.
Key benefits to carrying a 40 S&W:
Power-wise, the 40 S&W is only moderately better than the 9mm, and only slightly under the 45 Auto. (I'm speaking in general terms because more goes into it like barrel length, projectile size and type, etc. Generally speaking, this is true). But it does sit right in the middle. If you want something with a little more energy than 9mm, but want to carry more rounds than 45 ACP will afford, than 40 S&W is a good option.
Negatives to carrying a 40:
The main negative to carrying a 40 is that it is harder recoil-wise. Of course, it is something that can be trained away with practice, unless you have arthritis or some other physical ailment preventing your training, but it is there and some folks have a hard time being accurate with the snappier shooting rounds.
The other main negative to carrying a forty, is that it is, technically speaking, harder on your gun's internals. I say technically, because while it is a hotter round, I haven't heard anyone actually say they've experienced lower part life from it.
Also technically speaking, you should be replacing some of your parts every so often, anyway.
I don't personally own any guns in 40 S&W, and believe it is popular without reason simply because there are plenty of other options out there.
Conclusion:
This was a list of the top 5 most popular defense handgun cartridges available in the United States. I don't believe all of these should be included here, but I don't think any of them are going away any time soon.